DAPAAH CHOCOLATES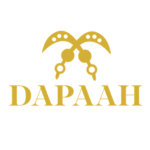 Description
For several generations our family has been involved in the cultivation of Ghana's globally recognised cocoa.
Our paternal great-great Grandmother owned cocoa plantations in the Ashanti and Western regions of Ghana, as did our paternal Grandfather.
On our mother's side of the family, our Grandfather grew cocoa from the 1950's until his passing, after which a portion of his plantation was inherited by his wife, our Grandmother, in the 1980's.
In December 2016, during a tour of our maternal Grandmother's cocoa plantation in the Western region of Ghana, our founder, Raphael, was struck with the idea of processing Ghana's quality cocoa into premium artisan chocolate.
Realising the great opportunity that processing organic cocoa into chocolate could bring for the local community in the form of higher wages and jobs, Raphael returned to London determined to utilise our family's heritage and disrupt the chocolate industry's status quo.
Siblings, Kwaku and Afia Valerie were later brought on board and thus Dapaah Chocolates was born; continuing and furthering a legacy initiated over seven decades ago.

Send Message to listing owner