GHANA COCOA SUMMIT 2021 TO SHOWCASE COCOA'S AGRIBUSINESS OPPORTUNITIES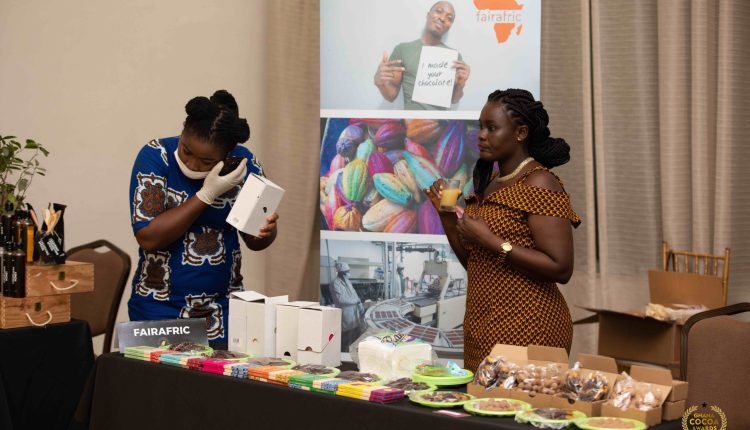 The maiden edition of Ghana Cocoa Summit is scheduled to take place in Accra on Friday 12 November 2021.
The event, which forms part of the annual Ghana Cocoa Awards, is aimed at exploring agribusiness opportunities available in the country's cocoa value chain.
It will assemble industry captains, accomplished entrepreneurs and researchers to share tips and insights on agribusiness prospects in the local cocoa sector and challenge local investors to take advantage of them.
The summit is also aimed at consolidating the ongoing conversations around the urgent need to churn out more jobs and wealth creation opportunities in direct response to the bulging youth unemployment figures, as well as, job losses and attendant economic hardship occasioned by the COVID19 pandemic.
The platform will also seek to explore how to creatively harness existing and emerging opportunities in the cocoa value chain to offer hope in a desperate era while examining how policy can be used to decisively catalyse job creation.
Ghana Cocoa Summit 2021 is targeted at the youth, mainly unemployed graduates, young entrepreneurs and students desirous of starting their own businesses.
Ghana is the second-largest producer of cocoa in the world and is famed globally for its premium quality cocoa beans.
The country's cocoa production sector has, for more than 140 years, supplied the raw material that has created multi-billion-dollar corporations and billionaires in Europe and elsewhere.
The resource-rich West African country is, however, struggling to produce its own cocoa billionaires comparable to those anywhere in the world.
Experts have often pointed to unfavourable policies and regulatory regimes that have over the years discouraged the emergence of local enterprise in the country's cocoa sector beyond farming.
In spite of these systemic challenges, a handful of indigenous entrepreneurs have, in recent times, braved the odds to venture and operate successful businesses across the value chain.
These outstanding test cases have, no doubt, inspired an evolving regulatory direction whereby the sector's regulator is encouraging the youth and local investors to take advantage of the enormous business opportunities; from input supply; farm maintenance, mechanisation, technology to cocoa value addition, among others.
The Managing Editor of Cocoa Post, organisers of the event, Kojo Hayford said, "the 2021 Ghana Cocoa Summit, the first in the series, will line up the Ghanaian cocoa industry's successful entrepreneurs to share their success stories to inspire the youth to wake up to the emerging wealth creation opportunities the sector has to offer."
"Ghana accounts for over 20% of world cocoa supply but makes only a little above $2 billion yearly out of a global cocoa industry that is valued at over 100 billion dollars per annum," he noted.
In his words, "clearly, there are unlimited opportunities for the country, especially the youth, entrepreneurs and innovators to invest themselves into the cocoa sector to draw more value for the country, and most importantly for themselves and other young people in dire need of jobs."
"An interesting feature of the Summit would be the Speed Mentoring clinic hosted by Dr Kristy Leissle and Moutia Murheb, Co-founders of the Cocoapreneurship Institute of Ghana (CIG), which will offer guidance on how to actualise cocoa sector business ideas into thriving wealth creation ventures," Mr Hayford, stated.
Speakers include the Founder and Managing Director of Niche Cocoa Industry Limited, Edmund Poku; the CEO of Oasis Solutions Ltd producers of Beauty Secrets brand of cosmetics, Francesca Opoku; and serial entrepreneur and CEO of AMP Logistics Ltd, Joe Forson.
Also sharing the high-level platform are a Deputy Chief Executive of Ghana Cocoa Board, in charge of Operations, Dr Emmanuel Opoku; the Deputy Chief Executive Officer of Ghana Enterprises Agency, Anna Armo-Himbson, and rural prosperity advocate and Ghana Country Director for Swiss-multinational firm ECOM Agroindustrial Corp, Muhammadu Muzzamil.
The Keynote Speaker and Executive Secretary of Cote d'Ivoire-Ghana Cocoa Initiative, Alex Assanvo, is expected to relate how the initiative plans to tackle low cocoa farmer incomes while leading the cocoa origin value addition agenda.
Also speaking are the Dr Esther Gyedu-Akoto, a Principal Research Scientist and Head of New Product Development Unit of Cocoa Research Institute of Ghana as well as Professor Emmanuel Ohene Afoakwa, a globally acclaimed Food Science and Technology scholar, and also doubles as the Chairman of the Advisory and Awarding Board of Ghana Cocoa Awards.
Organisers are expecting entrepreneurs and investors to join the conversation by registering for the summit on the official event portal www.GhanaCocoaSummit.com.
In strict compliance with COVID19 protocols, physical attendance of the first Ghana Cocoa Summit at Kempinski Hotel, Accra, is limited by invitation. However, virtual participation will open free of charge on Zoom, and Cocoa Post digital handles on Facebook and YouTube.
Ghana Cocoa Summit 2021 is powered by Cocoa Post under the auspices of Ghana Cocoa Board and supported by ADB, ECOM Ghana, AMP Logistics, UPL Callighana, Fairafric, Niche Cocoa and Ghana Exim Bank.
Source: thecocoapost.com