SISTERS CELEBRATE THEIR ANCESTRAL ROOTS BY REVOLUTIONIZING CHOCOLATE BARS IN GHANA
By: Andrea Blackstone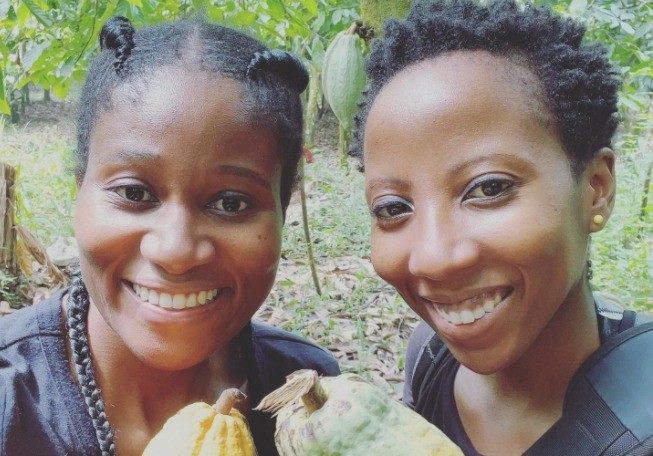 African countries are rich with resources from diamonds and copper to tropical fruits and cacao beans. Two sisters, Kimberly and Priscilla Addison, are chipping away at the myth that premium chocolate can only be made in Europe. '57 Chocolate co-founder Kimberly embarked on a factory tour of chocolate making in Switzerland and embraced the idea of transforming cocoa beans into delicious chocolate bars in Accra, Ghana. Priscilla became a company co-founder and serves as a co-chef aspiring to revolutionize bean to bar chocolate with her sibling. The duo embarked on a mission to revive Ghana's 1957 "can-do spirit."
" '57 Chocolate is short for 1957, the year of Ghana's independence. This venture uses resources grown within the country to create delicious treats," reads the company website.Lioness of Africa reported that the Addison sister's mother started a business in Ghana when she was 18 years old, so the women have entrepreneurial roots. Their company's mission states that the sisters aspire to add value to local resources and create high-quality products that celebrate African art and culture.
According to Stranger's Guide, '57 Chocolate's concept arose when Kimberly and her sister lived in Switzerland. The business idea materialized in 2014, after the ambitious sisters moved to Ghana, although the first batch of chocolate bars were not made until 2016.
"One day a group of friends invited me to tour a Swiss chocolate factory called Cailler, one of largest chocolate makers in Switzerland. At the beginning of the tour they showed us where they sourced the beans — Ghana and Cote D'Ivoire. Switzerland is known for its chocolate but the realization that the main ingredient isn't even grown there, but in West Africa, was quite shocking," Kimberly said in the interview with Stranger's Guide. "For the past 150 years, Africa has produced nearly 70% of the world's finest cacao beans, but less than 1% of the world's chocolate. So I went home that day and spoke to Priscilla about it."
Kimberly stated that the pair wanted to add value to the cocoa bean locally. Their plan to craft chocolate that was just as good — or even higher quality — than what was made in Switzerland or Europe so people in Ghana would purchase chocolate made at home. The Stranger's Guide also explained that the sisters gained experience through reading, taking classes, and apprenticeships with other chocolate makers.
A positive, ironic twist was posted on '57 Chocolate's Facebook page.
"When we started, our goal was to start local but think global! We are proud to have partnered with Manuyoo in #Berlin, Germany—serving customers across #Europe!"
In an interview with Black Girl Ventures, Priscilla underscored the importance of believing that Ghana can produce quality products.
"People must begin to believe that Africa can make products as good if not superior to foreign products. "We hear it a lot. This was made in Ghana?" Priscilla said.
Source: blackenterprise.com